---On the afternoon of 6th May 2019, the Training Course on Small Hydropower Technology for Lancang-Mekong Countries, a program under the Cooperative Project on Water Resources among Lancang-Mekong Countries, was kicked off in Lishui. 31 participants from 5 Mekong Countries including Cambodia, Laos, Myanmar, Thailand and Vietnam are attending this 25-day training program, which is the 109th seminar/training conducted by HRC. Mr. Li Zhongping, Deputy Director General of Bureau of International Cooperation, Science and Technology, Changjiang Water Resources Commission (CWRC), Ministry of Water Resources, and Dr. Xu Jincai, Director General of HRC presented at the opening and delivered speeches.
Mr. Li mentioned in his speech, "water is an important natural resource and valuable asset for the people of the member states of the Lancang-Mekong Cooperation (LMC) mechanism. Since the launch of the LMC mechanism, member states have actively promoted practical cooperation in the field of water resources and made remarkable progress. In recent years, the fruitful exchanges and cooperation was conducted and a solid foundation was built by CWRC, associated organizations and the countries along Mekong River under the framework of Lancang-Mekong Water Resources Cooperation. Small hydropower is a renewable energy with proven technology and low cost. Orderly and standardized development of small hydropower plays an positive role in improving rural production and living conditions, protecting forestation, reducing greenhouse gas emissions, and promoting sustainable economic and social development of the community".
Dr. Xu pointed out that the training workshop aims to provide a platform for the Lancang-Mekong Countries to fully carry out the intensive exchange and in-depth discussion in the field of small hydropower, focusing on the exchange of updated technology, management experience and effective solution, so as to promote more concrete cooperation in this area.
On behalf of all the participants, Ms. Bou Kosma, Deputy Director from the Ministry of Mines and Energy, Cambodia, expressed the sincere gratitude to the Ministry of Water Resources of China, Changjiang Water Resources Commission and HRC. It is highly expected that based on the extensive exchange on science and technology as well as the experience sharing, the professional skills of participants will be improved and the friendship be strengthened, so as to promote the future cooperation among China and other Lancang-Mekong countries.
During the training course, the presentations on different topics related to small hydropower will be delivered by the experts with rich experience. In addition, the participants will attend the International Symposium on Greening and Upgrading Small Hydropower for Eco-environment Restoration, and visit some typical SHP stations, manufacturers as well as the world famous Three Gorges Project. (2019-05-13)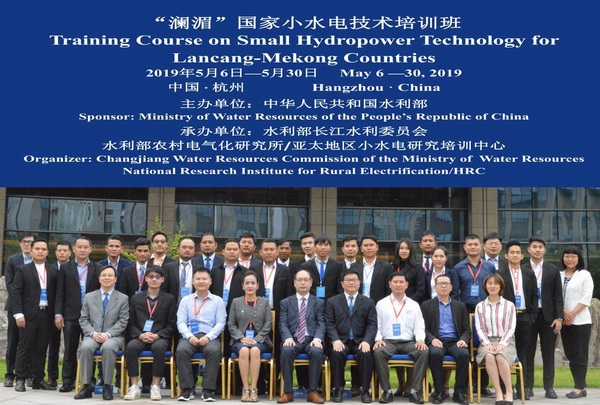 Group Photo