---Organized by Hangzhou Regional Center (Asia-Pacific) for Small Hydro Power (HRC), also known as National Research Institute for Rural Electrification and financed by Asian Regional Cooperation Fund, Seminar on Integrated Water Resources Management for Senior Officials of Asian Countries was held successfully in Hangzhou from March 14 to 27. In total, 31 participants from 9 countries including Cambodia, Indonesia, Laos, Malaysia, Mongolia, the Philippines, Sri Lanka, Thailand and Vietnam attended this 2-week seminar. Under the guidance and support from Ministry of Water Resources of the People's Republic of China and Nanjing Hydraulic Research Institute, and with the concerted efforts of all participants and HRC team, this seminar which is the 108th one conducted by HRC has achieved fruitful results.
During the seminar, presentations covering the topics on water resources management, hydropower and dam safety, small hydropower operation and maintenance and hybrid power generation technology, etc. were arranged. And site visits to the world-famous Three Gorges Project, Gezhouba Water Conservancy Project, the first of its kind built on the Yangtze River and HRC's Hybrid Power Generation Lab were also included in the seminar. Besides, in Nanjing, the whole seminar group attend a series of Lancang-Mekong Cooperation (LMC) Week activities including Workshop of Water Resources Management for Trans-boundary Rivers under Changing Environment, Youth Forum on Lancang-Mekong Water Resources Cooperation, Workshop on Hydropower and Dam Safety Management, etc. Moreover, country reports were presented by participants on water resources management, small hydropower, hybrid power generation technology and dam safety based on their national conditions, and in-depth discussions were made between participants and HRC staffs.
The seminar is popular with and highly appraised by the participants. On behalf of all participants, Mr. Shamsuddin Shahid, Associate Professor of Universiti Teknologi Malaysia£®UTM£©, expressed his high respect to the government of China, extended the sincere gratitude to the Ministry of Water Resources of China and HRC, and gave high evaluation and full affirmation to the seminar organization. He mentioned that except for the presentations with substantial knowledge, the site visits, such as the visit to the Three Gorges Project, are also very beneficial and interesting. The great success of this seminar is attributable to the efforts of HRC staffs. The participants are getting continuous help and support from HRC from the first day of application to the end of the seminar. The seminar has become one of the most unforgettable experiences in their lives. Mr. Bouathep Malaykham, Deputy Director General of Department of Energy Management, Ministry of Energy and Mines of Laos, also expressed at the closing ceremony that through the seminar, the expertise and experience of China's managerial and technical strengths in the field of integrated water resources management were fully shared and exchanged, and it is hoped that HRC can continue to organize more seminars or workshops respectively on small hydropower, hydropower and dam safety management, etc., which will definitely benefit more Asian countries.
Mr. Huang Jianping, Deputy Director General of HRC, was present at the closing ceremony, and awarded the certificates to all the participants.(2019-04-01)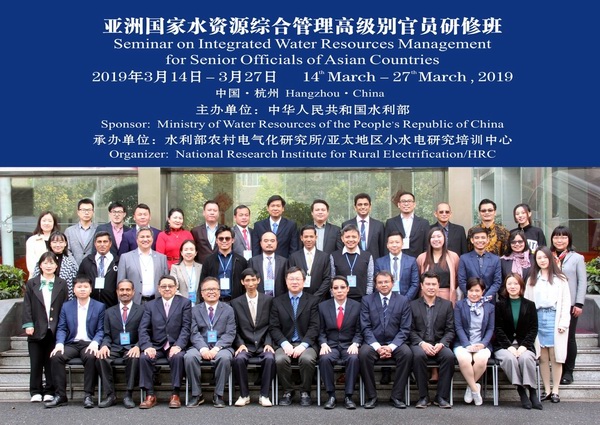 Group Photo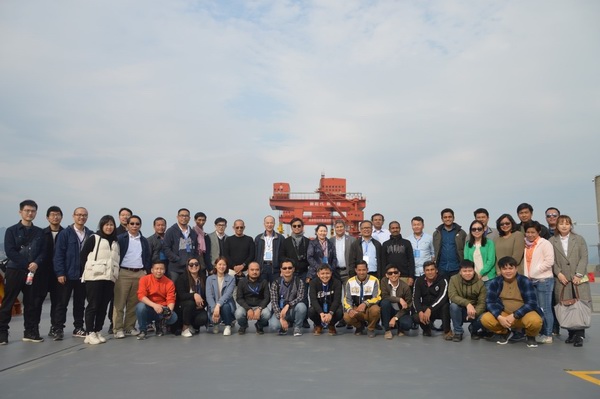 Site Visit to Three Gorges Project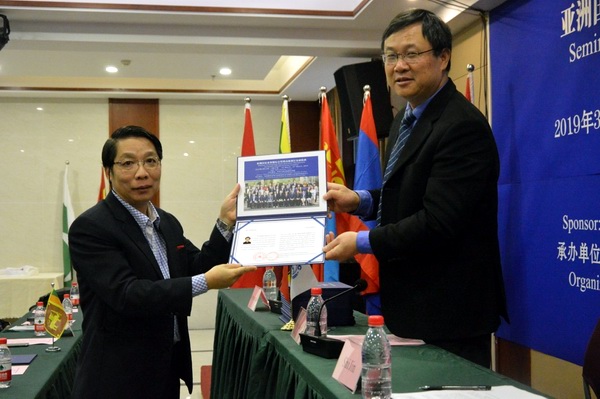 Issuing of Certificates at Closing Ceremony