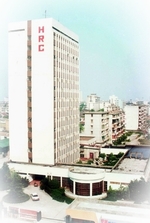 Co-sponsored by the United Nations Development Program and the Chinese government, Hangzhou Regional Center for Small Hydro Power (HRC) was established in 1981.
The mission of HRC is to promote development of small hydro power (SHP) by conducting training, R+D, consultation, design and information dissemination etc for the developing countries.
Under the Center, there are 6 divisions, i.e. HRC Secretariat, Administrative Office, New Technology R+D Division for Medium & Small Hydro, Planning & Design Institute for Medium & Small Hydro, Yatai Construction Supervision Consultation Co Ltd and HRC Service Center .
With a galaxy of around 100 talents specialized in all SHP related spheres and with the goal of serving the world, HRC is beginning to gain high reputation globally. Entrusted by Chinese Ministry of Water Resources, Ministry of Foreign Trade & Economic Cooperation, Science & Technology, UNDP, UNIDO, ILO, FAO etc, HRC has run over 90 SHP training workshops for nearly 2000 participants, of which around 1332 participants were from over 100 countries.
Domestically, HRC is called National Research Institute for Rural Electrification. At present, HRC has acquired a Grade B Certificate with the qualification to provide design services for medium and small size hydropower projects with installed capacity of less than 300 MW, and has also acquired another Grade B Certificate for hydropower engineering construction supervision and consultation. HRC is entitled with the right to export and import. HRC has long been a corporate member of both Federation Internationale des Ingenieurs-Conseils(FIDIC) and China Engineering Consultation Association. HRC currently acts as the Secretariat of SHP Network consisting of 29 member countries in the Asia-Pacific region and Latin American region, etc. Its magazines "SHP News" and "Small Hydro Power" are the main channels for information dissemination among these countries.
With its competitive technology, profound experience, widespread information channels and good reputation, HRC will continue to provide effective, efficient and satisfactory services for the owners domestically or abroad in such fields as project designing, supervision, bidding & inviting bids, technical consultation and training.
As one of the renewable and environmentally sound energies, SHP plays an important role in environment protection, poverty-alleviation as well as energy supply for rural areas. Integrated appropriately with irrigation, aquaculture, flood prevention, agricultural product processing and tourism, more benefits can be achieved from SHP. In China, one third of the counties with one fourth of the population in one half of the land depends on SHP electricity.